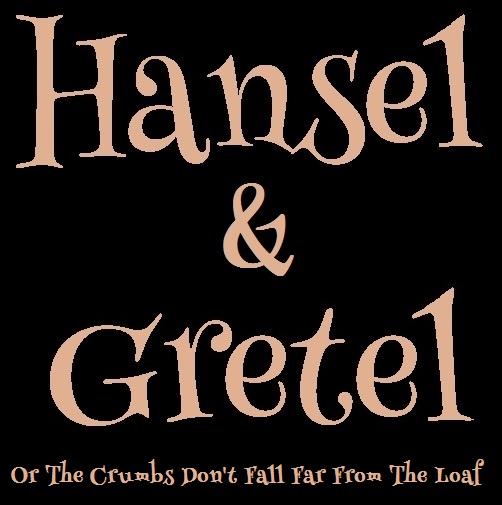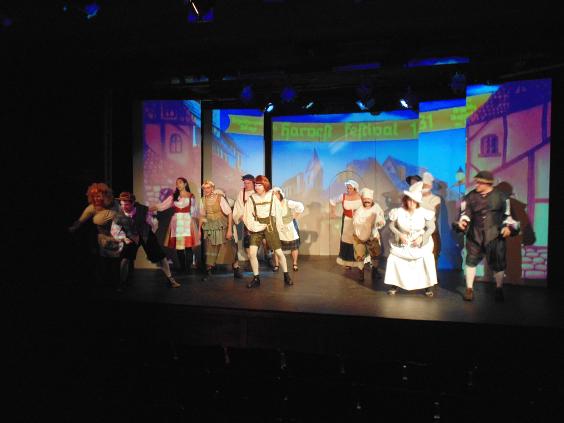 HANSEL & GRETEL
(or The Crumbs Don't Fall Far From The Loaf)
is a fresh take on an old tale.
With an all-new story, fun characters, original music and a lot of twists, it is laugh-out-loud fun for all.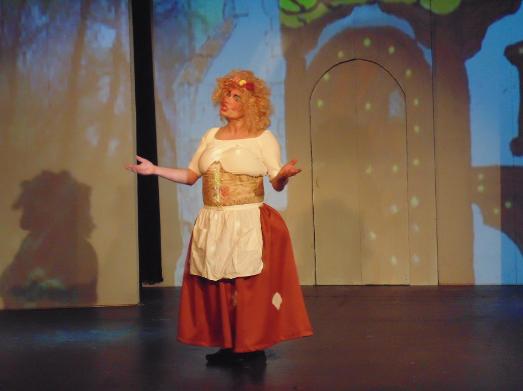 We're especially proud to introduce our brand-new Panto Dame -- VIDOW VINKLE
Vidow Vinkle is a great new character
if everyone has already seen your Twankie!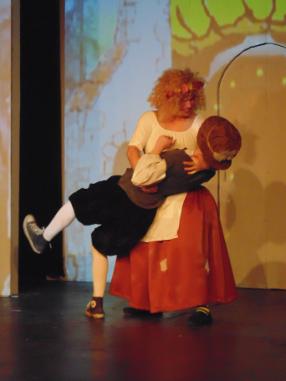 CHARACTERS
Vidow Vinkle, mother of Hansel and Gretel, the Panto Dame
Gretel Vinkle, a bright young girl
Hansel Vinkle, not so much
Baron Vasteland, an Evil Baron and landlord and Royal Treasurer
Potz, Lady Malevola's henchman
Panz, Lady Malevola's other henchman
Adalicia Biermann, a barmaid in Schplitzenpantz, the Ingenue
Crown Prince Rupert, the Principal Boy
Lady Malevola, A beautiful woman with evil designs
Villagers of the Bavarian village of Schplitzenpantz
Cuddles, The Bear
Valiant, Prince Rupert's horse
Hansel & Gretel is not often chosen as a vehicle for panto:
too much eating of small children, perhaps.
But this new version is too much fun to miss!
Poor Vidow Vinkle is struggling to keep her little family alive in 1431 Bavaria.
(Actually, the story is originally Russian, but do you know how hard it is to rhyme Petropavlovsk?) When the Evil Baron Vasteland takes her children away to sell them to pay off the back rent on her hovel (she has huge arrears), she enlists the help of the local barmaid, a wandering prince and more to find them.
Meanwhile, Lady Malevola and her henchmen, Potz and Panz, are lurking in the Great Forest (actually, it's just an Okay Forest), planning their own evil deeds, involving free lollipops for children (what could go wrong with that?), a candy cottage and a big oven.
Will Vidow Vinkle find her children? Will Hansel and Gretel outwit the baddies or will Cuddles the Bear eat them first? Will Prince Rupert and Adalicia the barmaid find true love? Will Valiant the Horse find his way out of the woods? Of course, they will -- it's a panto!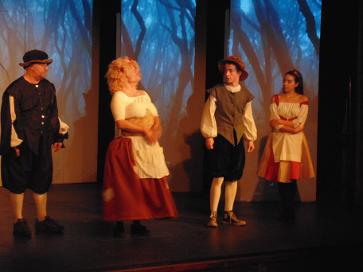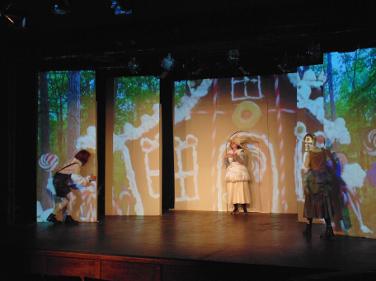 The script is all-new (or as all-new as a panto script can be),
the score is a mix of original material and adaptations of old music,
the laughs are all-new -- fresh at every performance.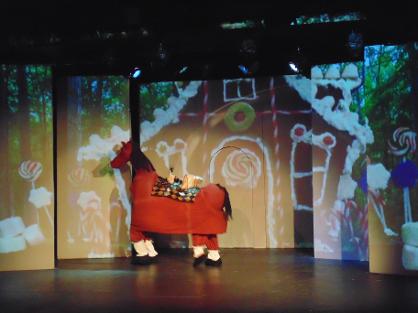 Some audience comments:
"I haven't heard my husband laugh so hard in a long time!"
(-- which is both a review and a story in itself.)
"Astonishing!"

"Simply wonderful!"
"Best. Finale. Ever!"
The December 2018 premiere turned into one of our best-sellers ever!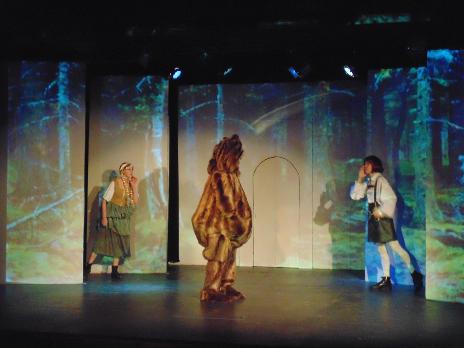 2 acts; approx. 95 minutes plus intermission
Set: multiple locales.
We used projections on flat panels.
A kitchen counter, a candy-wagon, a cage and an oven are rolled in and out.