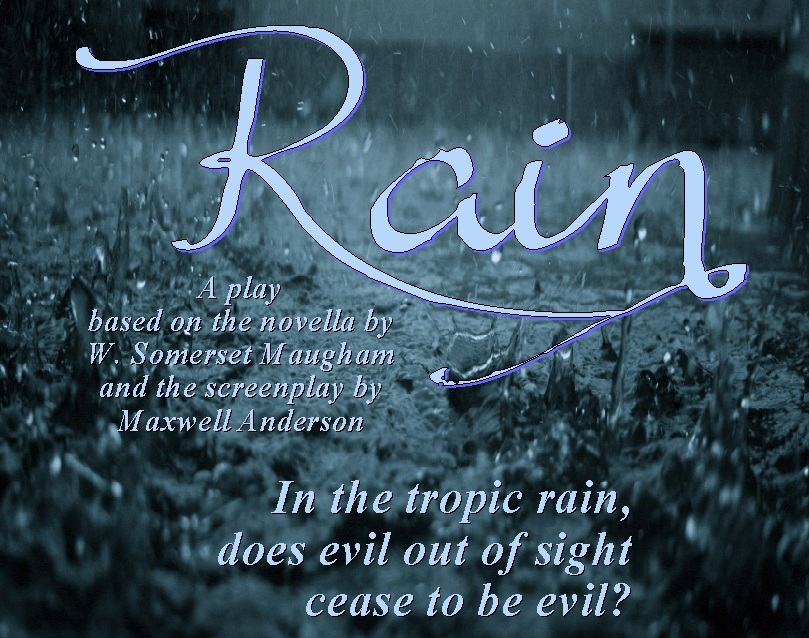 Adapted from the novella by W. Somerset Maugham
and the screenplay by Maxwell Anderson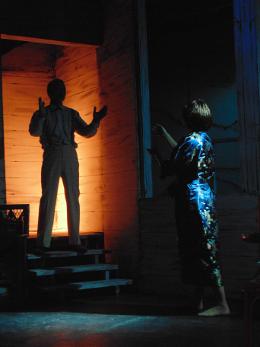 "Our Father, who art in Heaven" Davidson and Sadie pray. October 2018

The events of this play actually took place (more or less).
Somerset Maugham was there to witness it
and wrote about it in 1921.
It's been made into three movies, two TV shows,
at least two stage-plays, one jazz ballet,
and a musical since then.
The building where it happened still exists and is now called
The Sadie Thompson Hotel.

So, why does the story resonate?
It's primal -- it's the basic struggle of
human nature versus human spirit.
Who's right? Who's wrong? Who wins?
That's for the audience to decide.
It is 1930 in Pago-Pago, Samoa.
The rain beats down incessantly.
Thrown together by a health quarantine,
a missionary and a prostitute clash.
Who will win? Who will survive?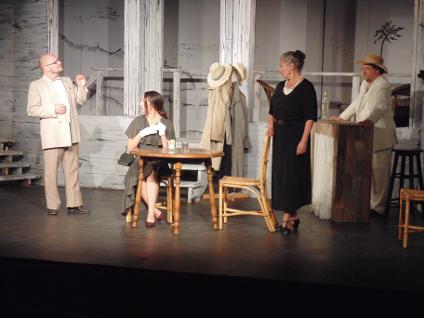 "To me, evil has always been a matter of opinion." October 2018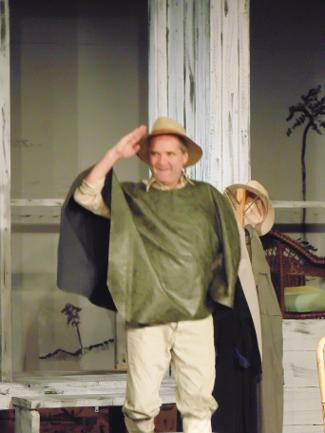 Sergeant O'Hara - October 2018
"There are scripts that depend on the performers to carry them. This one lifts the performers to its level!" J.D. Perth"Oh, that was good! That! Was! Good!" G.K. Ottawa"One of the best scripts you've ever done." S.J.
Numogate
"Timely, again. Or, maybe, timely, still. And, the ending! What a twist!" J.D. Perth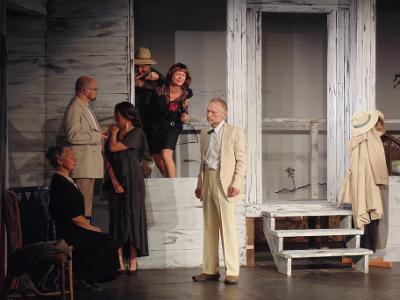 "You call yourself a Christian?" October 2018

SETTING
The village of Pago-Pago on the island of Tutuila, American Samoa; January, 1930

CHARACTERS
HOBSON, a U.S. Marine private, 18-20
Sergeant Tim O'HARA, a Marine stationed at Pago-Pago, 30-ish
AMEENA, a Samoan woman married to Horn, 40s to 50s
Joe HORN, a transplanted American, running a general store at Pago-Pago, 50s to 60s
MRS. MACPHAIL, the British wife of Dr. Macphail, 30-ish
MRS. DAVIDSON, the American wife of Mr. Davidson, 50-60
Dr. MACPHAIL, a British doctor, 40-ish
Alfred DAVIDSON, an American missionary, 60+
QUARTERMASTER Bates, of the S.S. Orduna, English, 40-ish
SADIE Thompson, an American woman, 23
2 acts; 88 minutes plus intermission;
1 interior set