Translated from the Middle English and adapted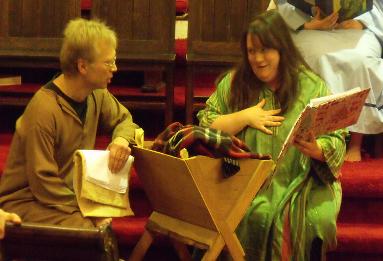 Mac and Gill plan a meal. December 2010

The Christmas Mysteries is based on the four Christmas plays in the 14th century Wakefield Mystery Cycle.

Originally written in Middle English (the language of Chaucer), BarnDoor Productions has translated and adapted the verse of its anonymous author (the so-called "Master of Wakefield") and amalgamated the four plays into one entertainment.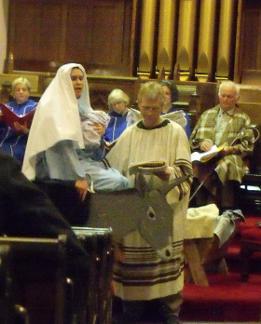 Jesus, Mary and Joseph, oh, and Donkey Hoatie. December 2010

What we have not done is change the simple,
childlike approach that people of the 14th century
had toward their faith – we think that this modern,
would-be wiser age might benefit from some of its
lessons.

As a play, it is surprising, a little shocking and
even funny – yes, the Medievals believed God had a sense of humour! Add some medieval music arranged for organ and choir and it's great theatre!

A Sunday School Christmas pageant on a grand scale!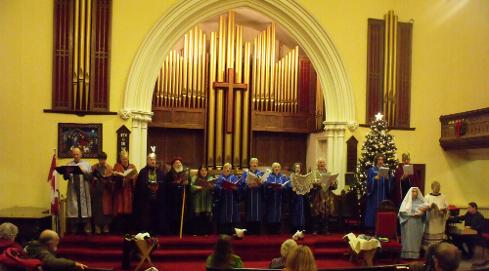 Ave Vera Virginitas December 2010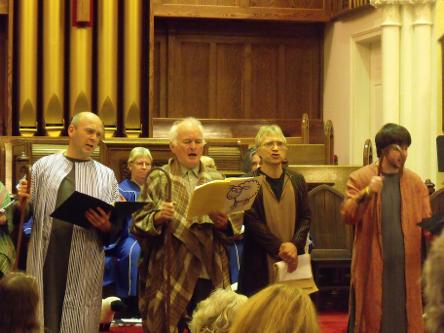 The Agincourt Hymn. David Bird, Frank Morgan, Joe Laxton, Tyler Champagne. December 2010

1 act
10 men (doubling possible) /3 women/choir/organ (or equivalent)

Musical numbers
Gaudete
Hey Ho, What Shall I Say?
The Agincourt Hymn
Dona Nobis Pacem
Ave Vera Virginitas