Based on the 1913 play by George M. Cohan
and the 1913 book by Earl Derr Bigger


George M. Cohan wrote much more than "Over There" and "Yankee Doodle Dandy". In fact, 7 Keys To Baldpate was his biggest hit, apart from his musicals. Earl Derr Bigger was no slouch, either, being the creator of the character
Charlie Chan.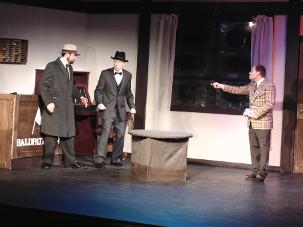 Above: Magee gets the drop on a couple of crooks.
Right: An ad for Bigger's 1913 novel.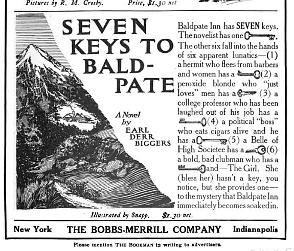 7 Keys To Baldpate is a flat-out romp with some mystery added to it. It's fun, sassy, a little bit scary and a real puzzler with a double-twist ending.

Cohan's original is three acts long and with a lot of extrania that modern audiences won't sit through. This new version is a snappy two acts (with a short prologue and epilogue) and action throughout.


William Hallowell Magee is a writer of cheap novels, the kind that sell for a dime in train stations. Challenged by an acquaintance, he accepts a bet to write a complete novel in 24 hours -- in mid-winter, in the frozen emptiness of Baldpate Inn, a summer resort hotel on the top of Baldpate Mountain. Safely locked in, with the inn's only key in his pocket, his writing session is soon interrupted by gangsters, politicians, roving reporters, hermits and ghosts -- each of whom has an "only" key of their own! How's a guy supposed to get any writing done?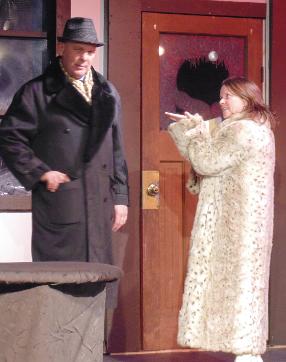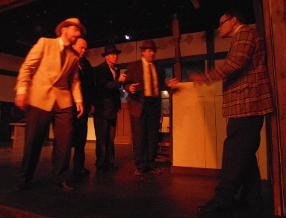 Above: Some crooks get the drop on Magee.
Left: Paying off on a bet.

Along the way, there's stolen money, crooked politics, more keys to Baldpate than you can shake a stick at -- and true love, along with a totally unexpected double-twist in the ending.
7 Keys To Baldpate is entertaining enough to have been made into six movies and a number of television productions over the decades. In this new, fast-paced adaptation, it's still just as entertaining.
2 acts; 95 minutes plus intermission
7 male/ 3 female; 1 interior set