A backstage, murder-mystery, panto farce -- you know, for Christmas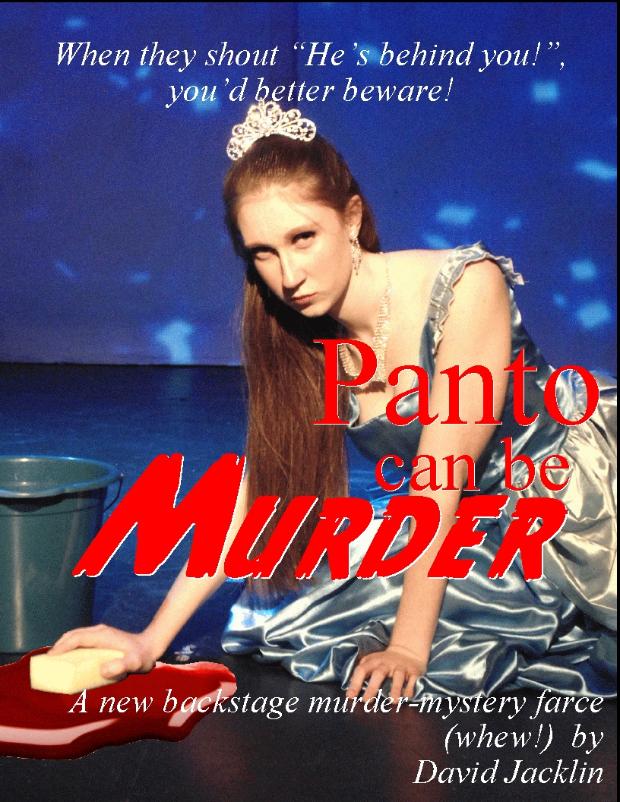 NOTE: although shown separately, the Cinderella Panto script below is not available for production separately, unless Panto Can Be Murder is also produced.

However, think of the savings in costumes, sets, props, etc -- not to mention rehearsal time -- if Cinderella is produced first (say, for Christmas) and Panto Can Be Murder is produced subsequently. As we have found, it is also hugely helpful for rehearsal when most of the cast already know half of the script! And, Cinderella is bleedin' hilarious!

Here's our December 2017 Cinderella in 30 seconds!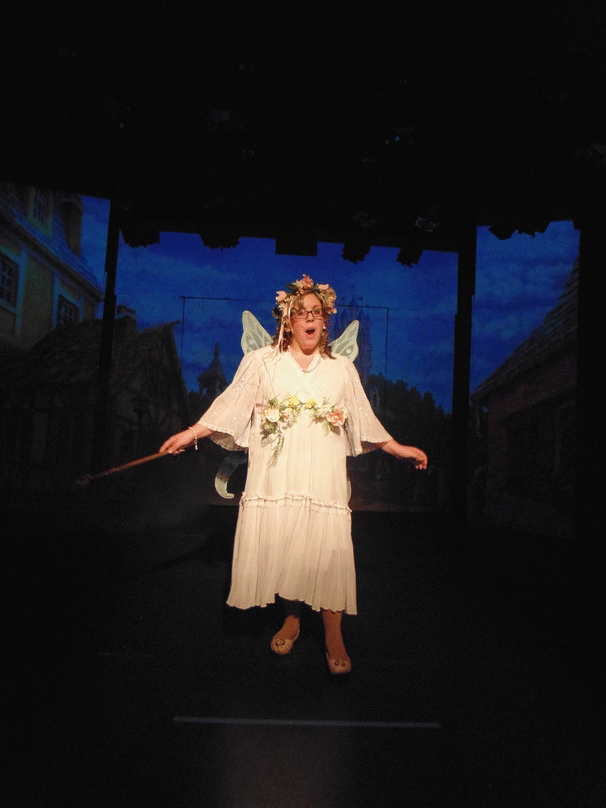 And here's a vid of the craziest, most dangerous song ever devised, which we used as our finale ultimo. Only one serious injury in the whole run!

Everybody loves a panto.
Everybody loves a murder-mystery.
Everybody loves a backstage farce.
Now, here's all three together in one!
Here are some first night comments:
"It's hilarious!"
"Too much fun!"
"I couldn't stop laughing."
"So much fun to see the Cinderella characters backward!"
"I've avoided panto like the plague -- this was so much fun, I want to see more!"
A company of (somewhat) professionals are gathered at a regional civic theatre somewhere in the U.K. to present their annual panto: this time, it's Cinderella.
All of the usual suspects are there: the Dame/producer of the show; the two Ugly Stepsisters; an innocent lovely Cinderella; the Fairy Godmother; Buttons, Dandini, a Prince. All augmented by the backstage crew.
We see the show being readied to go up one Sunday matinee. The actors are tense; they have a few little spats backstage; the music goes; the curtain goes up --
and twenty minutes into the show, the Dame turns up DEAD!
It's a case for D.I. Tuff and his assistant W.P.C. Duff, who arrive to solve the riddle -- while the show goes on! Luckily, D.I. Tuff is an old hand at panto --
you should see his Twankey!
This is just crazy fun, on both sides of the set, as the panto is played OUT OF SIGHT, but definitely heard, on the other side of the set, while the murder-mystery is solved in view of the audience.
Here's our February 2018 premiere of Panto Can Be Murder condensed into 1 minute!
THE CHARACTERS
Most of the performers play two roles:
the character of the "actor"
whom they are portraying and
the character the actor they are playing is playing in the panto that is playing behind
the set. Confusing,
isn't it? Not really.
Women
Character

Plays

Description
Jenni Wale
Cinderella
a woman about 20-24
Ruth Buchanan
The Fairy Godmother
a woman of about 50
Taylor Ellis
Stage Manager
a woman of about 24
Meg Proznuk
A.S.M
a woman of about 19
W.P.C. Lorraine Duff
of the local constabulary
a woman of
about 23
Men
Character

Plays

Description
Barry Inman
Buttons, narrator/clown
a man about 28
Vance Britton
Baron Hardup
a man in his 40s perhaps
Terry Lavasseur
The Baroness,
director/producer
a man who is
50+
Hugh Coltman
Grizelda Hardup
a man from 30-40
Dennis Willett
Mona Hardup
a man from 30-
40
Julian Havers
Dandini
a man from 35-45
Ben Roe
Prince Charming, a prince
a man about 25
Detective Inspector Tuff
an investigating D.I.
a man 50+
2 acts; 95 minutes plus intermission
8 male/ 5 female; 1 set, seen from backstage; some recorded or live music