ONE BODY TOO MANY
a new mystery-farce
based on a screenplay by
Winston Miller and Maxwell Shane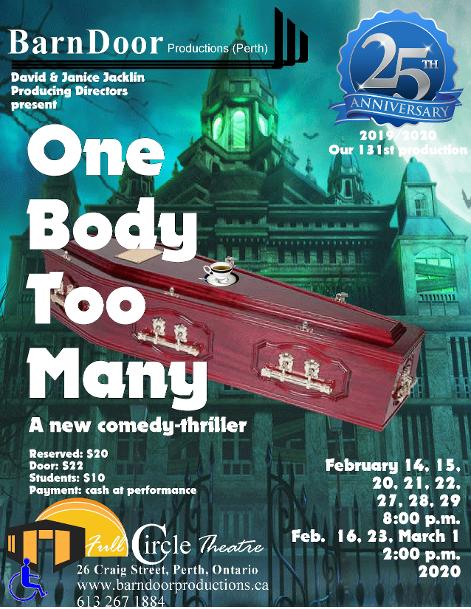 The show's premiere production is not set to hit the stage until Valentine's Day,
but I thought I'd put up a page now to give people a preview.
An old-fashioned, crowd-pleasing romp!
Based on a (public-domain) 1944 Jack Haley movie (Oz's The Tin Man),
One Body Too Many
is a farcical murder-mystery set in a haunted-house (well, sort of).
Eccentric millionaire Cyrus J. Rutherford has died,
and his relatives and friends all gather to hear the will.
Instead of splitting an inheritance, they end up splitting heirs.
Timid insurance saleman Albert Tuttle shows up to sell the dead man a policy, but instead is recruited as a body-guard (for the body) and has to solve the mystery of the disappearing body -- and the appearing bodies.
And, find true love along the way, of course.
Expanded from the original 60 minute run time of the movie,
One Body Too Many
is a full-length evening of laughs and a few thrills, too.
The show is as much fun to rehearse and perform as it is to watch.
Albert Tuttle, an insurance agent
Estelle Hopkins, CJR's only surviving sister
Kenneth Hopkins, her husband
Margaret Hopkins, daughter of Estelle & Kenneth
James Davis, older nephew of CJR, son of CJR's deceased older sister
Carol Dunlap, niece of CJR, daughter of another of CJR's deceased sisters
Henry Rutherford, nephew, son of CJR's deceased brother
Mona Rutherford, Henry's wife
Merkel, the butler (who looks and sounds like Bela Lugosi)
Matthews, the house-keeper
Professor Hilton, CJR's astrological advisor
Morton Gelman, CJR's lawyer
The body of Cyrus J. Rutherford
2 acts
approximate running time: 95 minutes plus intermission
6 male / 6 female
1 interior set
special effects include a video screen, moving panels, a trick coffin