WAIT! Don't leave, yet! This is something new and different!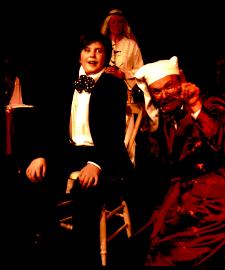 Scrooge and Young Scrooge, with the 1st Spirit
December 1997



Every succeeding adaptation of Dickens's classic seems to have lost a little more of the original, of the wonderful words that made the story timeless. Now, we've gone back to the original and brought DICKENS, WORD FOR WORD to the stage, creating a Christmas Carol that is unlike any other; one that is sure to inspire and entertain even the most "Scrooged" theatre-goers.

Some audience comments from our 2016 production:
"Another masterpiece." R.D., Perth
"If I could, I'd see every performance!" A.S., Carleton Place.
"Superb! . . . riveting performance." A.M., Almonte
"I now like Dickens!" Anonymous.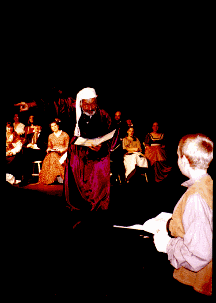 Scrooge and The Boy, December 1998

Aimed at meeting the needs of a wide variety of groups, Charles Dickens's A Christmas Carol offers:

Flexible casting: the lowest practical limit is about 14;
upper limit: how big is your stage?

Choral Presentation: Christmas is busy for all. Memorization is minimized by the "choir-like" style: individual characters are done off-book; group work is best on-book.

Flexible staging: tech can vary according to the capabilities and inclination of your group: bare floor and full-lights or full scenery and special effects, it works either way.

Story theatre style: fast-paced and constantly surprising, the style makes full use of Dickens' beautiful prose. About 80% of the book's text is present, but every moment is pure theatre.

Upbeat musical arrangements: Taking traditional Christmas songs as the starting point, the score is up-tempo and modern, without being pastiche.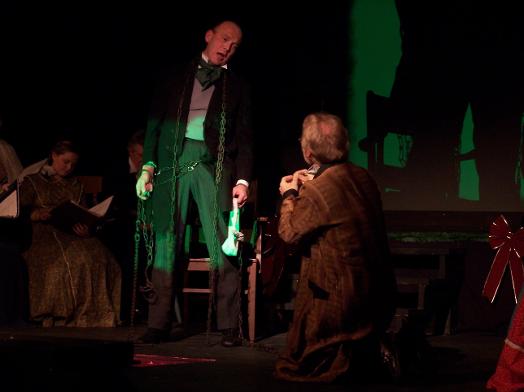 David Bird as Marley; Joe Laxton as Scrooge, December 2005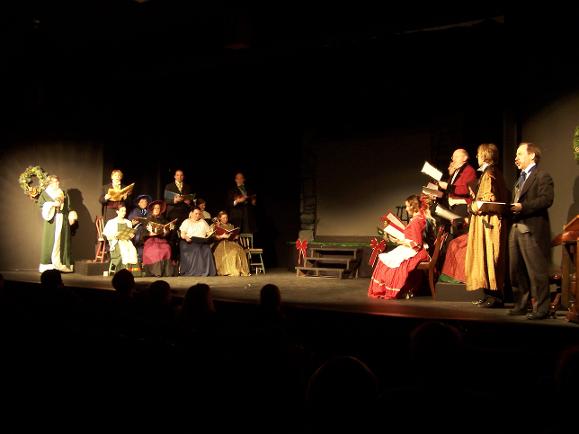 In performance, December 2005

 Act One
Overture (instrumental)
Come, Good Christians All
Wassail All Over The Town
Glad Tidings
Carol for the Nativity
Sir Roger de Coverley (instrumental)
The Old "Waits" Carol
The Mistletoe Bough (instrumental)



Act Two
Improvisation on Lully, Lullay (instrumental)
Good Christian Men, Rejoice
The Boar's Head Carol
Lo, How A Rose E'er Blooming
Torches
Lullay, Thou Little Tiny Child
Hark! What Mean Those Holy Voices?
Sing Noel
The Gloucestershire Wassail
2 acts; 110 minutes plus intermission
1 unit set
"choral" casting: doubling/tripling of roles as desired
minimum 14 -- maximum ??
SATB quartet recommended for some numbers
Multi-media video backing (which includes all music and audio) available on DVD
Music available in full printed score for small combo,
on CD (custom transpositions available)
or even as General Midi files for computer/synthesizer playback.
Recommended instrumentation: drums/bass/guitar/keyboard 1 & 2/flute