a musical story-theatre adaptation from Dickens
The Chimes is Dickens's second Christmas
novella and, in his life-time, it was at least as
successful as the previous year's A Christmas Carol.

In fact, it sold more copies and, due to the fact that the publisher of A Christmas Carol bilked Dickens out of large amounts of royalties, it made him far more money.

The Chimes is actually not a Christmas story: it's a New Year's story, but it serves for Christmas very well.

Presented in the same "musical story theatre" style as our very successful A Christmas Carol (but with an all-original score), The Chimes is as musical, as entertaining and as deliciously "Dickens" -- with the added advantage of being all-new to most people.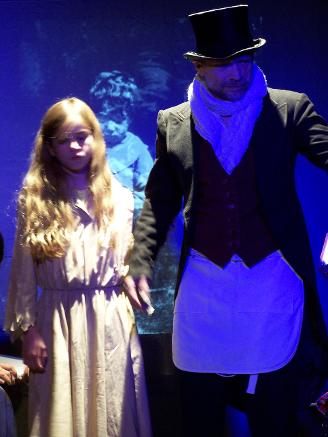 Rachel Needham as The Spirit of the Bells and Joe Laxton as "Trotty" Veck

NEW! An experiment below!
Here's the script with the vocal score embedded in the text.
Toby "Trotty" Veck is an old man who has lost his faith in himself and humanity, but one New Year's Eve, with the help of the spirits that inhabit the belfry of a nearby church tower, he finds strength to go on.

Many consider it a more "human" story than A Christmas Carol – more human and more intense, with characters drawn from real life stories. Being Dickens, however, it is also comic and engrossing and exciting and above all, entertaining.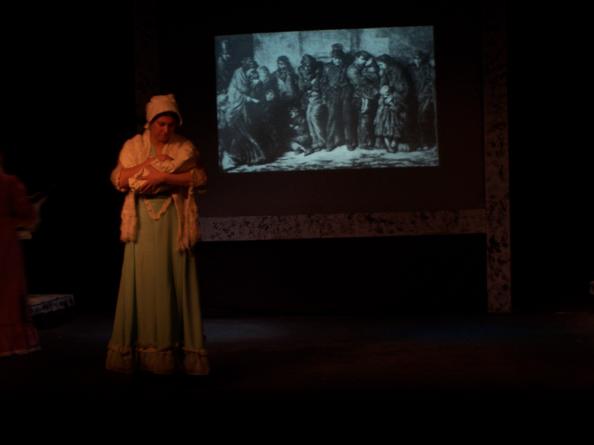 Mary Beth Armstrong as Meg, December 2011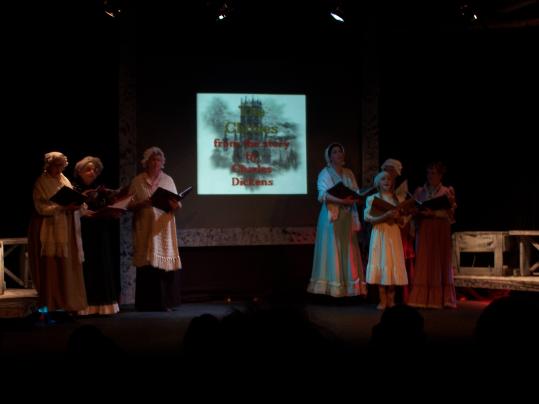 The Women singing The Bells of London, December 2009

The Bells of London
Put 'Em Down
The Year Was Old
Benediction
Put 'Em Down, reprise
Toby Veck
The Spirit of the Bells
Listen!
When and How
Follow!
Trotty's Dance
Finale Ultimo
2 acts; approx. 110 minutes plus intermission
unit set
9 men / 7 women / doubling possible / additional chorus as desired

Multi-media video backing (including all musical numbers) available on DVD

All original musical score for organ with chimes (or synthesized equivalent)