Adapted from the drama by George Broadhurst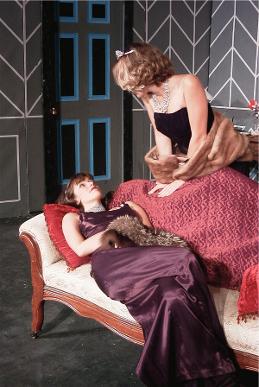 Maegan Ricketts and Tegan Healey
Act II, August 2004

Bought and Paid For has a pedigree of
significant proportions.

Written by George Broadhurst, one of the most popular authors in early Broadway history, for whom the Shubert Organization built The Broadhurst Theatre in 1917, it ran a phenomenal 431 performances in 1911, was made into a movie starring Theda Barra in 1916, remounted on Broadway in 1921 and made into another movie in 1922!

Edited and adapted for modern sensibilites, we think it remains entertaining and, even today, a little shocking.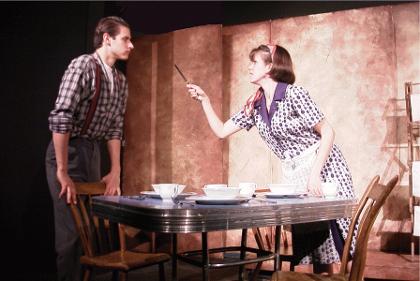 She's my sister! And, nobody's gonna harm her!
Brant E. Daniluk and Maegan Ricketts, Act IV, August 2004

A telephone girl attracts the attention of a millionaire in the early 1920s. Against her better judgement, she
marries him, but finds life with him to be little more than a "gilded cage". A rare example of early melodrama that treats with marriage, alcoholism and
sexual abuse in a frank and modern manner.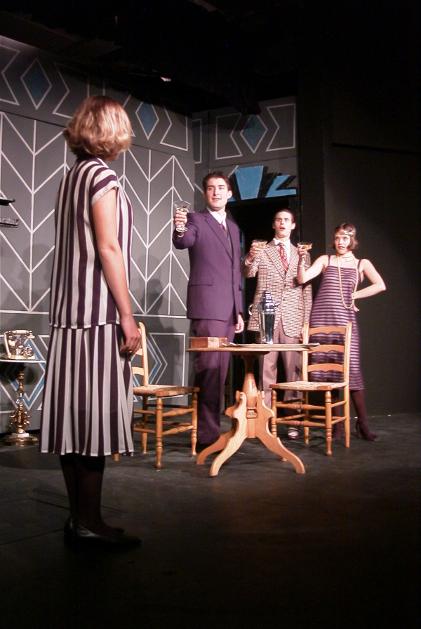 Tegan Healey, Eric Dugdale, Brant E. Daniluk, Maegan Ricketts, August 2004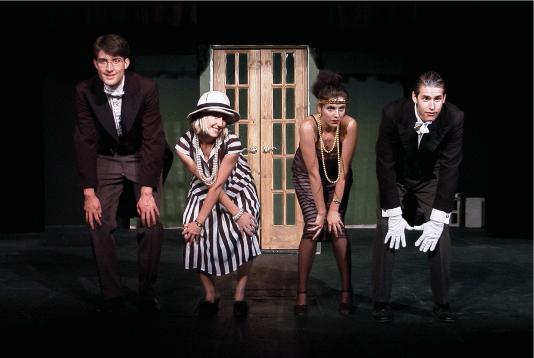 The Company do The Charleston, August 2004

Optional "specialty songs" (score included):
The Charleston
She's Only A Bird In A Gilded Cage
After You've Gone
Always Leave 'Em Laughing


4 acts; 1 intermission;

3 male / 2 female / 3 int. sets