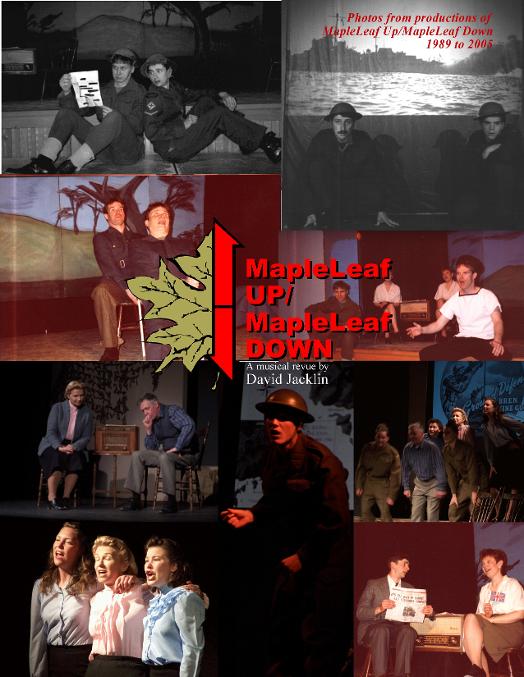 A composite of shots from various productions 1989 to 2005

"Jacklin's sensitive and moving tribute... strikes a chord... an ideal way to make an important era... come alive. Beautifully written monologues and vignettes... lovely original music gives the evening a special flavour." The Ottawa Citizen

A tribute to Canada's part in the Second World War. Through vignettes, video and songs, the show looks at the development of a small nation thrust into the forefront of monumental events.

The show is fast-paced; alternately funny,
tuneful and touching, without ever becoming sentimental or maudlin.
It's a great choice for high-school or university level production, as well. It can involve multiple departments, including Drama, English, History, Music, Visual Arts and more. It's educational in every aspect -- but also very entertaining theatre.

The songs are the songs of the servicemen (and women) rather than the commercial songs of the day, and they provide a memorable framework for this important
subject. Additional original music adds spice to the mix. The available video background contains more than 200 shots of a young nation at war.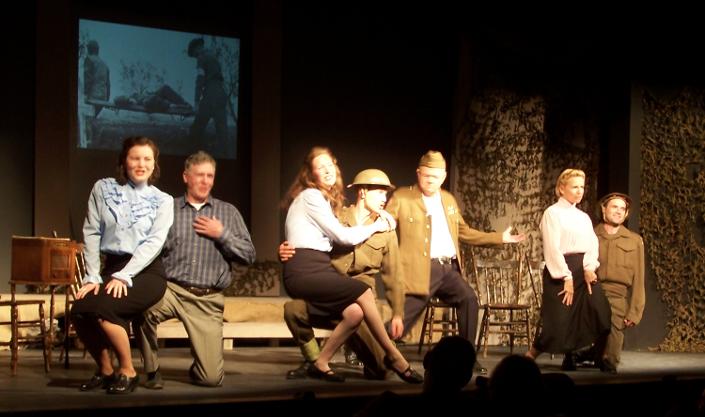 The Company sing Old King Cole. 2005

MUSICAL NUMBERS
Act One
Waltz In Gmin (instrumental) . . . . . . . Johannes Brahms
Mademoiselle From Armentieres . . . . Traditional
The Woad Song . . . . . . . . . . . . . . . . . Traditional
Old King Cole (Army Version) . . . . . Traditional
To The Stars . . . . . . . . . . . . . . . . . . . Harold Walker
The Glenwhorple Highlanders . . . . . Traditional
Roll Along, Wavy Navy . . . . . . . . . . Traditional
Roll Along, Wavy Navy, reprise . . . . Traditional
The Quarter-Master's Stores. . . . . . . . Traditional
The Bren Gun Boogie . . . . . . . . . . . . David Jacklin *
And So, Goodnight . . . . . . . . . . . . . . David Jacklin/Catherine Villar *
Beer Is Best . . . . . . . . . . . . . . . . . . . Traditional
Flying Fortresses . . . . . . . . . . . . . . . Traditional
Lili Marlene . . . . . . . . . . . . . . . . . . . Hans Liep/Norbert Schultze

Act Two
Entr'Acte: The Bren Gun Boogie . . . . . . . . . . . . Instrumental
Lili Marlene (English lyric) . . . . . . . Hans Liep/Tommy Connors
I'll Run Right Back To You. . . . . . . David Jacklin/Catherine Villar *
The Kriegie's Hymn . . . . . . . . . . . . . Traditional
The Athabaskan's Finish. . . . . . . . . . David Jacklin/David Semple *
A-25. . . . . . . . . . . . . . . . . . . . . . . . . . Traditional
Marching To Berlin. . . . . . . . . . . . . . Traditional
Has Anyone Seen The Colonel?. . . . Traditional
They Were Only Playing Leap-Frog . Traditional
The Funeral March . . . . . . . . . . . . . . . Some Dead Russian
They Were Only Playing Leap Frog . . Traditional
The Normandy Medley. . . . . . . . . . . Traditional
I Don't Want To Be A Soldier. . . . . . Traditional
The D-Day Dodgers . . . . . . . . . . . . . . . . . Traditional
O Canada (instrumental) . . . . . . . . . . Calixa Lavillee
The Bells of Hell, reprise . . . . . . . . . . Traditional
When This Bloody War Is Over, reprise . Traditional
Waltz In Gmin, reprise . . . . . . . . . . . . . Johannes Brahms
K-K-K-Katy! * . . . . . . . . . . . . . . . . . . Geoffrey O'Hara
K-K-K-Katy! Reprise (Bows ) .. . . . . . Geoffrey O'Hara

* Original numbers under copyright 1989/1995/2005
All other numbers are from the public domain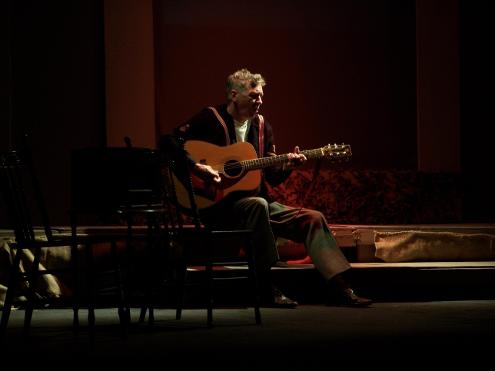 Gary King, himself a former Navy man, sings The Athatbaskan's Finish. 2005

2 acts; approx. 110 minutes plus intermission
Unit set;
Minimum cast: 2 male/ 2 female BUT any greater number of performers may be involved;
Arrangements for 1 piano or 6-piece band available
Video/audio background available on DVD. If audio from DVD not used, additional underscore numbers are available for band.

INSTRUMENTATION
Clarinet
Trumpet
Tenor Saxophone
Piano
Acoustic Bass
Drums