A country musical
Book and lyrics by David Jacklin
Music by David Jacklin and Michael Erion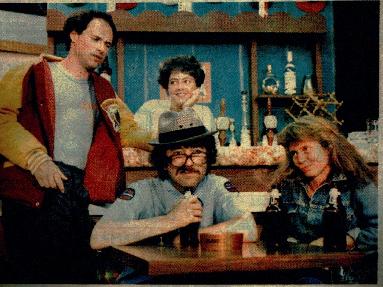 "Lord, Let Me Be In The Senate"
Gerard Lepage, Sheri Madden, Tim O'Ray, Bev Wolfe
June 1985
Phot Credit: Ottawa Citizen

An entertaining, memorable musical that deals with making choices, leaving, staying and coming home.

When Mike, a country singer, returns to his old home-town after ten years, he finds that, while the faces are pretty much the same, everything else has changed and, no matter how hard you try, you just can't go back.

With song after song that will stay with you for a long time, this is a deceptively simple look at the end of youth and the realizations we all must make, sooner or later.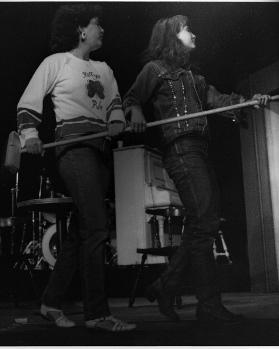 "Make Mine Honky-Tonk"
Sheri Madden, Bev Wolfe, June 1985

Musical Numbers

Livin' For The Weekend
You're My Friend
I Remember Friday Nights (In '71)
'Nother Dollar, 'Nother Day
Honky-Tonk Suits Me Fine
Where's The Romance?
The Pieces We Left Behind
Me And My Big Fat Mouth
Heaven In The Back of a Dodge
Keep On
Don't Hold Me Close
Lord, Let Me Be . . .
The Shadow of the Night
I Fell Out of Love With You
Old Friends, Old Faces
Big Enough For You


"Great entertainment and worth every penny of the asking price. There are some great songs in the show. 'Pretty darn good.' says Steve Forster." Perth Courier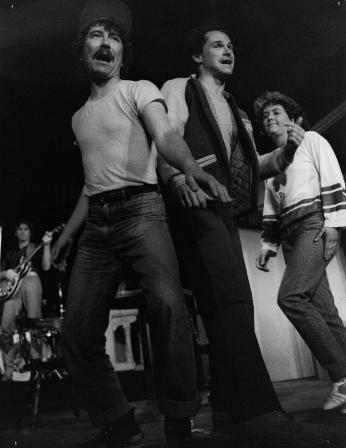 "I Remember Friday Nights (In '71) Mike Erion (bg), Tim O'Ray, Gerard LePage, Sheri Madden, June 1985

2 acts; approx. 105 minutes plus intermission
3 male\ 3 female \ country band
(rhythm guitar; bass; second keyboard; drums needed; two actors play lead guitar and piano)
1 int, set