Plan 9 From Outer Space
The Musical
AUDIO FILES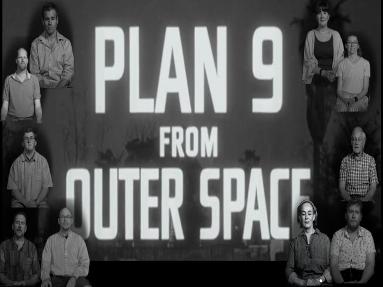 The company sing the opening song (from the 2020 movie version)
Before you listen to the music on this page,
be sure you download (or just open onine) the
Vocal Score and/or the libretto from the last page.
Don't worry, you can always come back here if you haven't.
We'll wait.
The music files below are extracted from the movie version of Plan 9 The Musical and they include FX and dialogue from the movie. They sound pretty darn good, if you ask me.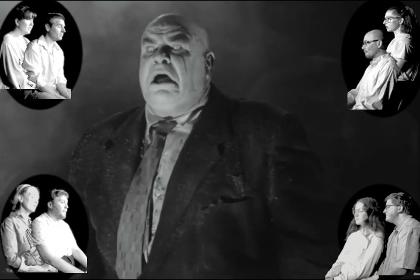 Clay, the zombie, walks (from the 2020 movie version of the show)
No 1 The Science Fiction Overture.mp3
No 2 Plan Nine From Outer Space.mp3
No 3 The Shadows of Grief-A Time To Live.mp3
No 4 A Time To Live reprise.mp3
No 6 Plan 9 From Outer Space reprise.mp3
No 8 Your Pillow By My Side.mp3
No 9 Near The Cemetery.mp3
No 10 The Lost Roses Of Her Cheeks.mp3
No 11 Eros Calling Earth.mp3
No 12 The Bell Has Rung.mp3
No 14 That's Why I Hold You (In My Arms).mp3
No 15 There's Something Out There.mp3
No 16 The Zombie Walk.mp3
No 17 The Zombie Walk reprise.mp3
No 19 Everything's On Fire-Eros Calling Earth reprise.mp3
No 20 God Help Us In The Future-Plan Nine reprise.mp3
No 22 Audience Playout.mp3