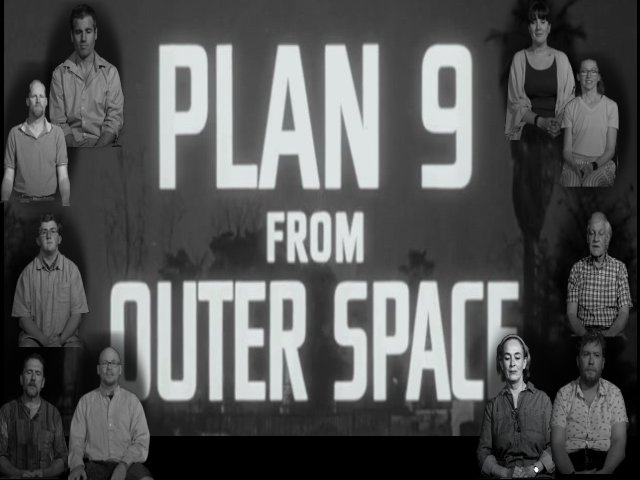 A rock'n'roll musical based on Ed Wood's 1959 movie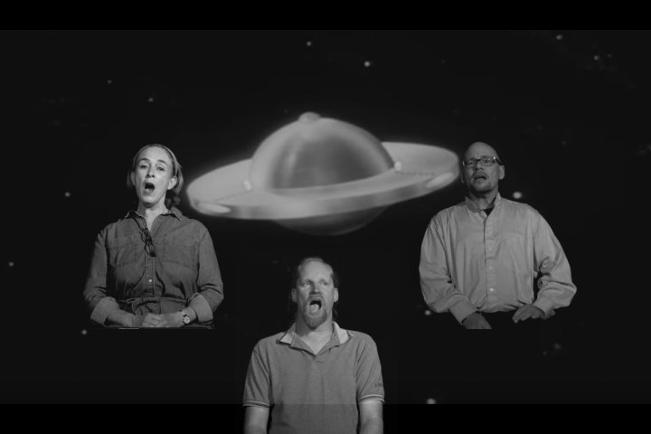 THE BELL HAS RUNG
Kathleen Everett as Tanna / Andy Simpson as The Ruler / Brian Atterbury as Eros
in BDP's 2020 movie version
rock'n'roll, zombie, vampire, teenage hot-rod,
bikini beach, outer space, horror, science-fiction
"Loved, loved (Plan 9 From Outer Space) last evening! So much fun!" H.G. Perth
"Better than the original!" F.B. Arden (Faint praise, indeed!)
Ed Wood's 1959 science-fiction offering is considered
"the worst movie ever made", so bad it's unintentionally funny -- and almost impossible to make sense of.
So, of course, it had to be turned into a rock'n'roll musical!
But, rather than simply make a scene-for-scene copy, this version expands the plot and characters into an intentionally funny, plot-logical (with the original wasn't) and always entertaining musical that uses 1950's B&W horror movie cliches in a new and fun way.
Act One
1

The Science Fiction Overture

Instrumental
2

Plan 9 From Outer Space

Company/Danny/Jeff/Edith
3

The Shadows Of Grief/A Time To Live

Criswell, The Mourners
4

A Time To Live, Reprise

Rev. Lynn Lemon, Company
5

Space Love

Tanna, Company
6

Plan 9 From Outer Space, Reprise

Company
7

It's A Saucer

Company
8

Your Pillow By My Side

Paula, Jeff
9

Near The Cemetery

Company (Teens)
9a

Near The Cemetery, Transition

Instrumental
10

The Lost Roses of Her Cheeks

Jeff, Paula
10a

It's A Saucer, Underscore

Instrumental
10b

It's A Saucer, Transition

Instrumental
11

Eros Calling Earth

Eros
12

The Bell Has Rung

Ruler, Eros, Tanna
Act Two
13

Entr'Acte

Instrumental
14

That's Why I Hold You (In My Arms)

Danny, Edith, Teens
15

There's Something Out There

Jeff, Paula, Col. Edwards, Lt. Harper
15a

The Zombie Walk, Preparatory

Instrumental
16

The Zombie Walk

Company
17

The Zombie Walk, Reprise

Company
18a

The Zombie Walk, Underscore

Instrumental
19

Everything's On Fire

Tanna, Eros
20

God Help Us In The Future/Plan 9, reprise

Criswell, Company
21

Bows & Finale Ultimo

Instrumental/Company
22

Audience Playout

Instrumental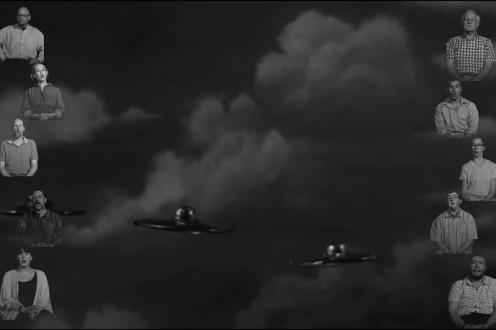 Members of the Company sing It's A Saucer
from BDP's 2020 movie version
2 acts; approx. 95 minutes plus intermission
balanced cast - 14 to 26 people, depending on doubling
unit or open setting with multiple additions
rock band: 2 keyboardists; guitar; bass drums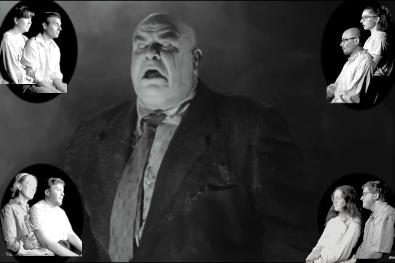 Some loving couples sing of young love and monsters in Near The Cemetery

from BDP's 2020 movie version