A holiday farce
based on a movie script by
F. Hugh Herbert and Brown Holmes

A special note on copyright for this play:

F. Hugh Herbert and Brown Holmes died more than 50 years ago, making this play completely legal in Canada and any other country where copyright term is
"life of the author plus 50 years".

BUT! Changes to the copyright laws could bring this into question once the USMCA deal
(aka the Trump Trade Travesty) comes into effect. While the wording of the clauses is a little unclear,
it could be that works that have already fallen into the public domain in Canada could be re-included in copyright protetction.

SO, CANADIAN THEATRE COMPANIES! Get your production on the boards before the changes happen! CONTACT me now!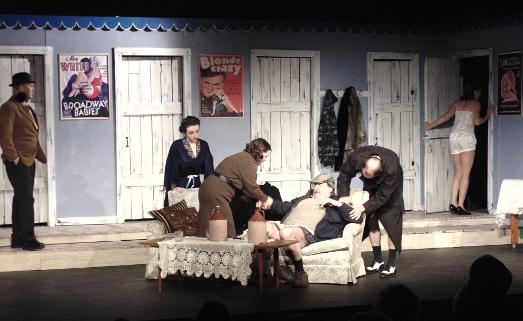 "I'd better put you to bed." It's that kind of a Christmas show. December 2015

Something VERY different for Christmas!

In 1935, Warner Brothers released a short, not-too-funny farce called Snowed Under. The script of that movie is now in public domain -- in Canada!

Snowed Under, the stage play, is a fun-filled expansion of that short into a full-length romp.

It's a Christmas play without one Christmas spirit (although there is plenty of spirits) and without a miracle or a sleigh-bell in sight.

Alan, a Broadway playwright, runs away from New York to find peace and quiet to finish his new play. His retreat in Connecticut would be fine, if he weren't followed by his 1st wife, his 2nd wife, the girl who wants to be his third wife, the deputy sheriff, the sheriff himself, and his producer -- who is also the father of the girl who wants to be his third wife.

More fun than a blizzard, three bedrooms, eight people and two gallons of apple-jack.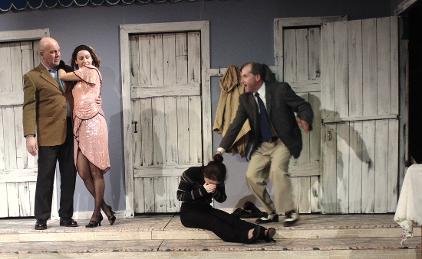 David Bird, Kim Fisher, Selena MacKay, Scott Duncan, December 2015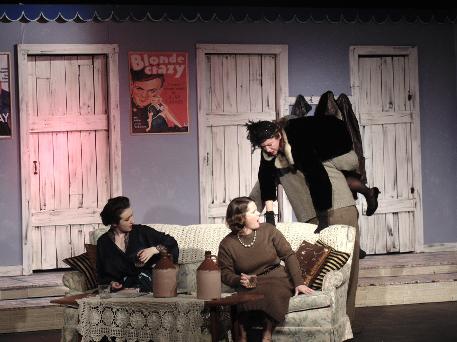 "Put me down, you dirty old milkman, you!"
Selena MacKay, Karen Bernique, Kim Fisher, David Jacklin, December 2015

NOTE: The authors of the original Warner Brothers screenplay both died more than 50 years ago. Under current Canadian copyright law, that means the script is now in public domain in Canada. Certain proposed changes to that law under the USMCA trade deal (created after I wrote the new version) could change that status.

SO GET YOUR PRODUCTION ON THE BOARDS ASAP -- before I'm forced to withdraw it.

2 acts; 105 minutes plus intermission;
4 female/ 5 male; one interior set