Adapted from the play by C. Haddon Chambers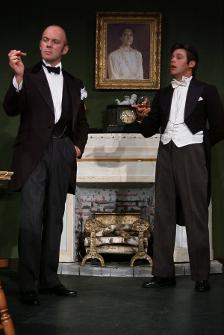 "The domestic situation is . . . volcanic."
David Bird as Armitage; Todd Stace as Parbury, August 2003

The Tyranny of Tears ran for over 140 performances on Broadway in 1899, after
running in England for years. Called "one of the finest comedies of our time", it
remains so today. At its best, it reminds us of Oscar Wilde's writing. It is charming and genuinely funny – even after all this time.
Unfortunately, over the decades, it had largely been forgotten.

When we found this script, it was in a very different form and attributed to one Henry Miller (but not that Henry Miller). We have since brought it back to its origins and tightened and "21st-centuried" it.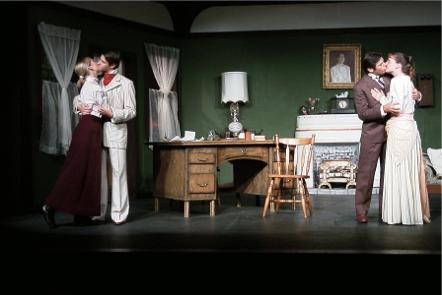 "Don't concern yourself about us. We're reconciled."
Tegan Healey, Brant Daniluk, Todd Stace, Michelle Bryden, August 2003
Parbury, a successful writer, finds himself ruled by a wife who uses tears as her best weapon in the
struggle for household dominance.

The entry of Parbury's old school chum brings the struggle to a head and Parbury is caught between his beloved wife, an affectionate secretary and his lost, lamented bachelorhood.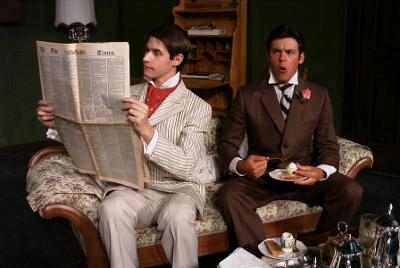 "I was going to say you were always rather sour-natured."
Brant E. Daniluk as Gunning Todd Stace as Parbury, August 2003

Optional "specialty songs" (score included):

I'm Captain Jinks of the Horse Marines

I'm Lady Jinks of the Foot Dragoons

The Man Who Broke The Bank At Monte Carlo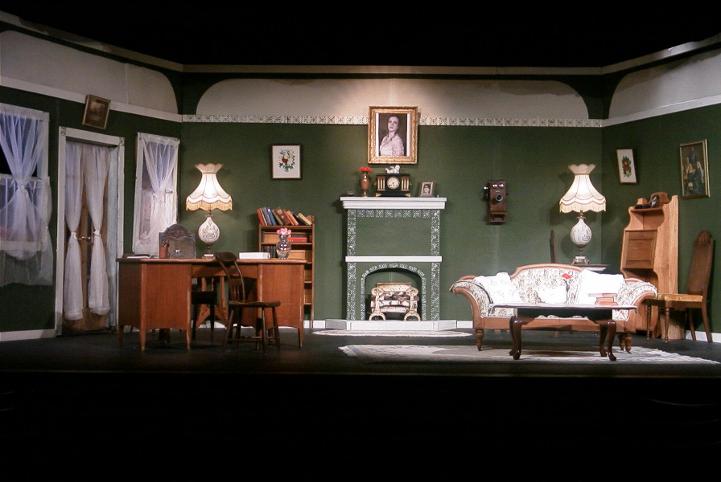 The Tyranny of Tears set, August 2003


3 acts
4 male/ 2 female

1 int./ 1 ext. set or or (optionally) 1 int. set.