A play of the Hudson Bay Country
Adapted from the 1908 drama by Eugene Walter.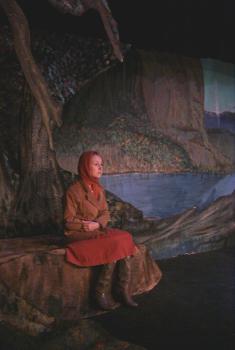 Hilda lost.
Tegan Healay as Hilda in Act Three, July 2003

Hilda is an innocent girl brought up in the wilds
of Canada by her sour Scottish father, who uses her as a domestic servant. He has been so twisted by his own wife's unfaithful behaviour that he plans to keep his daughter far from men for her (his) whole life.
Enter a millionaire American railroad tycoon. Will she
be seduced from her home by the wily American
millionaire or will noble Jules Beaubien, the
French Canadian woodsman, save her?
It leads to a showdown in a cabin, a canoe chase and a knife fight in the woods. Will right prevail?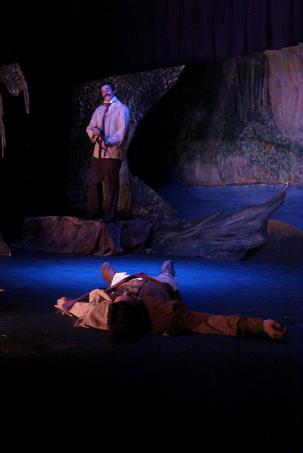 A shot from the dark -- is it the end for Jules Beaubien?
Todd Stace as MacDonald; Chris Jackson as Jules
The Wolf
is an authentic old-time melodrama,
but, surprise!, there are no twirling moustaches or top-hatted
villains. It is simply engrossing, engaging,
entertaining and exciting theatre.
It looks at racial intolerance, domestic abuse and more with a surprisingly modern view, yet keeps entertainment at the fore. With added specialty songs between acts, it keeps the audience happy and engrossed the whole time.
The Wolf was a hit on Broadway in 1908 and, in
1922, was the very first play ever to be adapted
for radio, leading to a tale of a New York policeman breaking down an apartment door when he heard screams from within. It was the radio playing the second act of The Wolf.
And, by the way, author Eugene Walter never came
anywhere near Hudson's Bay in his life.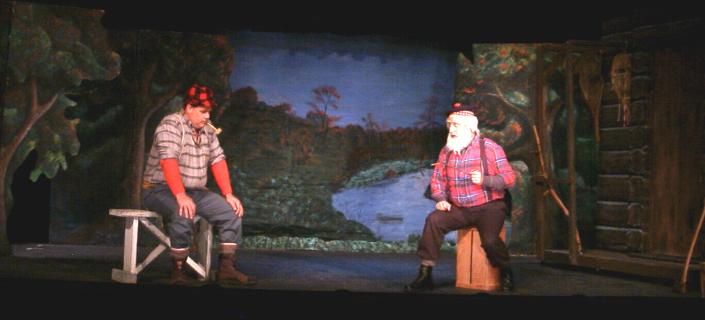 "Did ye say she died, mon?"
Richard Pitcher as Batiste LeGrand; David Jacklin as McTavish; Act One
3 acts; approx. 105 minutes plus intermission(s)
5 men/ 1 woman
1 int. and 2 ext. sets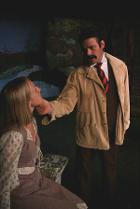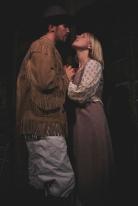 Hilda's Choice: MacDonald, the American millionaire or Jules Beaubien, the French Canadian woodsman.
Guess which one she ends up with. Go ahead, guess.