Uncle Corbett

Lives In The Attic

Winner of the
Ottawa Valley Book Festival's
1991 Dave Smith Playwrighting Award
An outrageous, funny and farcical show about bureaucracy and the little guy.

The Keilly family have been farming on (and fighting for) their land for more than a hundred years, but the Department of Land and Resource Management think it would be put to better use as a toxic waste dump.

They hadn't counted on the Keillys, who don't own a phone, won 't open mail and think they should be able to just do things their own way!

And, Uncle Corbett talks to things – like planets!

The comedy is both physical and philosophical as the Keillys' fight to save their home leads to an in-and- out-the-doors chase, an exploding outhouse and more.

". . . a lighthearted romp with just enough truth to get the audience thinking. . . highly entertaining. . . a surefire crowd-pleaser. Jacklin gets in some delightful barbs at bureaucrats, politicians, nepotism and progress." The Ottawa Citizen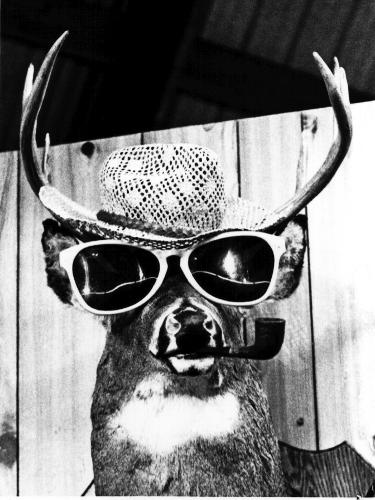 Above: The only surviving photo of the premiere production in 1986.
Zeke Cervidae as Orville

2 acts; 110 minutes plus intermission;
3 male (1 plays 3 roles!) / 3 female / 1 tractor; simultaneous setting