Generals Die In Bed
A play by David Jacklin
from the novel by Charles Yale Harrison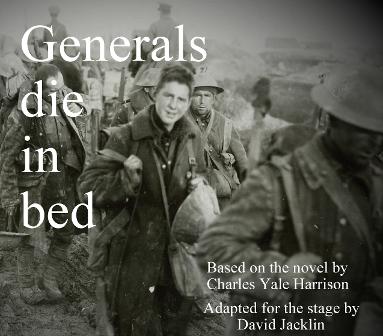 The script above includes the vocal score-- within the text!
"Another gem.
Never capriciously graphic or gory, yet still effectively communicated the absolute
absurd horror of war.

Community theatre at its finest."

Z.F., New Brunswick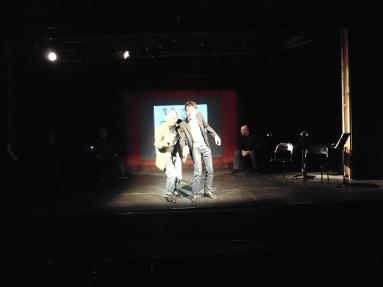 Voulez vous couchez avec moi, c'est soir? April 2019
A long forgotten Canadian classic
When Charles Yale Harrison's Generals Died In Bed appeared as a novel in 1930 (it had been serialized in 1928), it was received with rave reviews everywhere and became an international best-seller, something nearly unheard of for a Canadian book, at least, one not written by Lucy Maude Montgomery. Toronto's Globe & Mail said: "The importance of this book cannot be overstated."
The book was compared favourably to All Quiet On The Western Front and For Whom The Bell Tolls.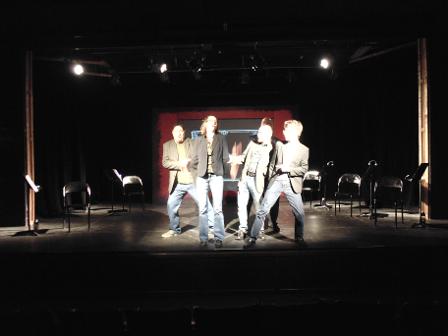 That's The Wrong Way To Tickle Marie

April 2019
"If you haven't seen this yet...GO!
I saw it tonight and want to see it again...right now!
It was so moving. I really don't have the words to describe the range of emotions I felt but everyone needs to see this. GO!!
It was absolutely superb!!"
K.B., Gillies Corners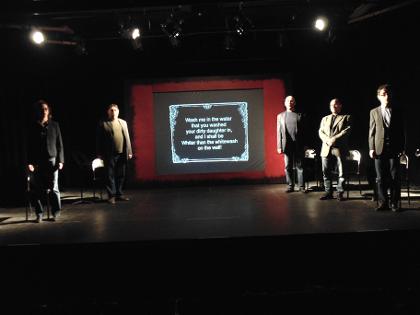 Whiter Than The Whitewash On The Wall, April 2019

"What an amazing production!
Theatre at its best.
David Jacklin has written a masterpiece.
You will never see the realities and absurdities of war depicted as in this fantastic production."
J.S. Perth
Oh! Oh! Oh, It's A Lovely War! April 2019
What the critics didn't take into account was the anger of generals, in particular, Canada's Sir Arthur Curry, arguably the best general (on both sides) of the war, but not the best literary critic. "I have never read a meaner, nastier and more foul book" said the general, angered by the book's implication that he had told Canadians not to take prisoners at the Battle of Amiens in August of 1918. In consequence of that anger, the book was condemned and largely suppressed in Canada, meaning that it disappeared from bookshelves and libraries. It was not until 1970 that it was re-published and brought back to light.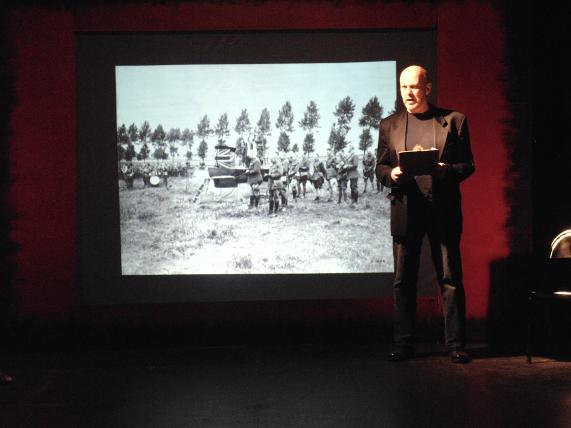 The sinking of the Llandovery Castle, April 2019

A soldier, whose name we never learn
Anderson, a religious private from Northern Ontario
Brownie, an unlucky private
Fry, a private
Cleary, a private
Broadbent, the 1st soldier's good friend
The sergeant
A befurred girl in Montreal
Captain Clark, an English officer
An English tommy, who doesn't like German lice
An MP (Provost)
Karl's brother, a German soldier
His friend, another German soldier
The Colonel, of the soldier's battalion
An army doctor
Gladys, a Cockney prostitute
Renaud, a French-Canadian soldier
A German sniper, with three children
A lieutenant, from "D" company
An old French woman (who's probably 40)
Captain Penny, who replaces Captain Clark
The Doughboy, an American soldier from Tennessee
The brigadier-general, of the soldier's brigade
An English WAAC, who's got mumps under the waistcoat
A German officer, who is a POW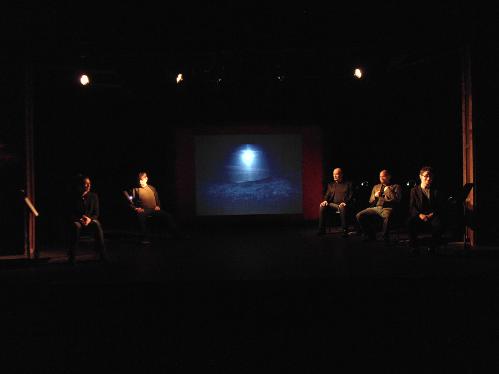 It's not a full-on musical, but it's definitely more than a "play with music". We are a little ahead of schedule with this: when our planned production of our new musical, The Diaries of Adam & Eve, couldn't find a cast, we had to reach forward two seasons to bring this show into the playbill – we hadn't planned to do this one until 2021!
We believe that Generals Die In Bed remains the "burning, breathing historic document" that the New York Times dubbed it in 1930. Perhaps, even more so in the perilous times we face today.
 Act One
1 Whiter Than The Whitewash On The Wall
2 I Want To Go Home
3 Take Me Back To Dear Old Blighty
4 Shelled Last Night (a capella)
5 Gassed Last Night (a capella)
6 I Want To Go Home, reprise
7 Oh, It's A Lovely War
8 Apres La Guerre Finis (a capella)
9 Marching Songs Medley
10 The Generals Have A Bloody Good Time
11 Oh, It's A Lovely War underscore
12 Goodbye-ee
Act Two
13 Keep Your Head Down, Fritzie Boy
14 We Are Fred Karno's Army
15 Hush, Here Comes A Whizz-Bang
16 That's The Wrong Way To Tickle Marie
17 Grousing, Grousing, Grousing
18 I Want To Go Home, 2nd reprise (a capella)
19 Oh, I'll Take The Tripod (a capella)
20 And When They Ask Us
21 Take Me Back To Dear Old Blighty, reprise
22 And When They Ask Us, reprise
23 Let's All Go Down The Strand

2 acts; 85 minutes plus 1 intermission
bare stage with 6 chairs and a projection screen
6 performers (?) -- 5 male (?) / 1 female (?)
NO special costumes -- NO props
Multi-media video backing which includes all music and audio is
available on DVD
(NOTE: the motion picture/photo montages and all the audio used in this production are from archival sources that are now in the public domain across the world.)